All-in-one Servo Motor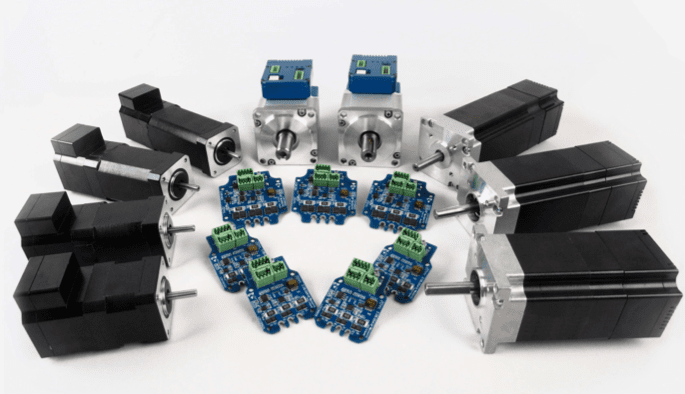 An all-in-one servo motor is a self-contained electrical device that rotates as part of a machine with great precision and high efficiency, widely applied in industrial and commercial systems.
A traditional servo solution typically consists of the control circuit, motor, and position encoder. EZmotion driver module products integrate the control circuit, power stage, and position sensor in one board, which greatly simplifies the entire servo system and is easy to put inside an all-in-one servo with less wiring and improved robustness.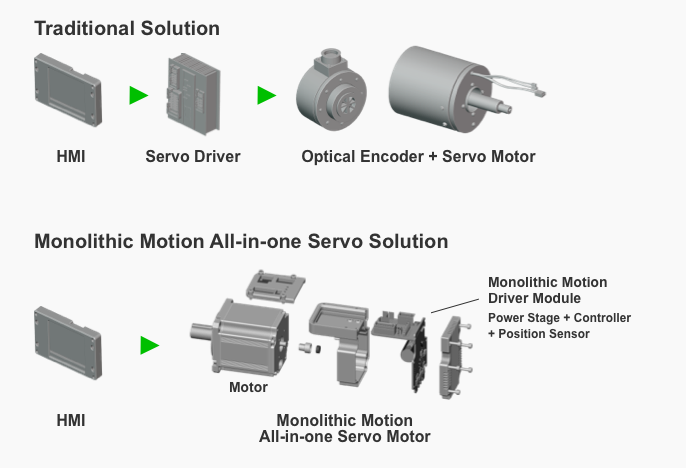 The driver module replaces the encoder with a lightweight, compact (3mmx3mm) magnetic position sensor IC. The onboard magnetic position sensor does not require extra wires, housings, or connectors and works robustly even in dusty environments. This driver module product series has been developed to support major industrial field buses and interfaces, such as the PRS series for RS-485, PCN series for CAN and, PEC series for Ether CAT, and PSD series for step/direction input to replace stepper motors.
Features & Benefits:
Fully Integrated, Compact Design for Space-Limited Applications such as Robotic Joints and XYZ Positioning Stages

On-Board Magnetic Position Sensor Supports Precise Position Control

Support Major Industrial Field Buses, including RS-485/Modbus, CAN/CANopen, and EtherCAT/CoE

By Supporting Pulse/Direction Control Interfaces, the Servo Motors Can Replace Stepper Motors without Additional Modifications to the System

Provide Various Control Modes, Including Profile Position (PP), Profile Velocity (PV), Profile Torque (PT), Homing (HM), and More

Programmable GPIOs for Easy Use

Parameter Identification and Loop Auto-Tuning

Provide parameter identification and loop auto-tuning method for easy use

Rich Protection Functions, including OCP, OVP, OTP, Lock, Thermal Monitor, and More

AccuFilter and Notch Filter to Lower Noise and Vibration

Easy to Configure via the MotionLAB Virtual Bench GUI Software

Supports Customization to Meet Individual Application Requirements