Automatic Gate Machine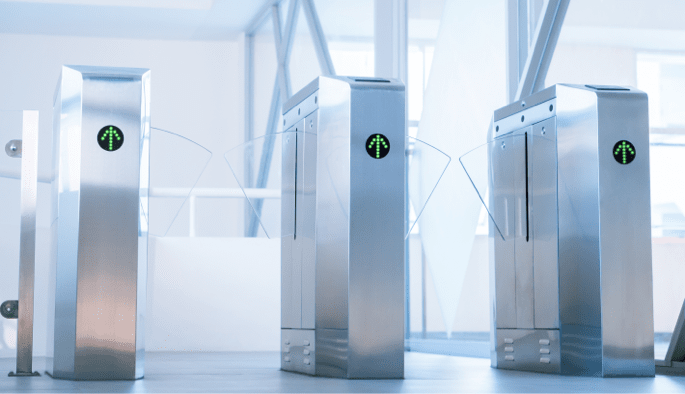 The automatic gate machine, also called a flap barrier, is the efficient pedestrian access control equipment widely used in places with large passenger flow, like parks, airports, subway stations, etc.
The automatic gate machine checks single-way tickets, QR codes, and/or stored-value cards, allowing access for valid ticket holders. When it detects the entrance of a valid ticket holder, the central controller generates the gate opening signal, and the servo motor moves the baffles synchronously, which are embedded on both sides of the turnstile channel, allowing the pedestrian to go through the channel.
Optoelectronic switches are used to monitor the position of pedestrians. When the infrared light is blocked, indicating that a pedestrian is passing, the optoelectronic switch reverses its state; the motion controller receives this message and halts the motor to prevent accidental injury.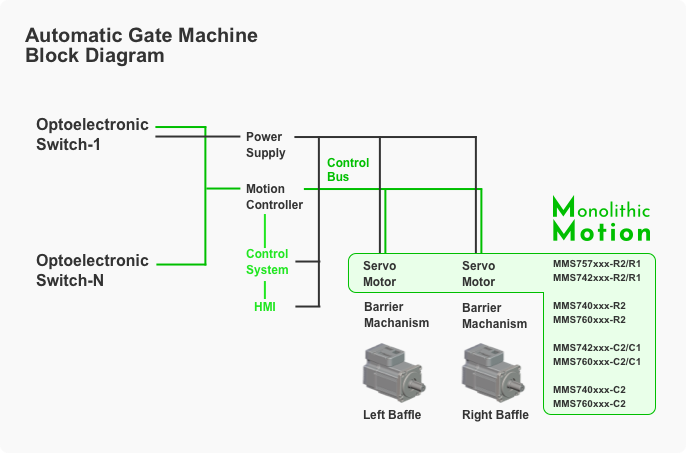 EZmotion SCN & SRS Series all-in-one servo motors work as the actuator for automatic gate machines, moving the baffles to let pedestrians in or barrier them. RS-485 and CAN communication interfaces are supported to enable fast, reliable communication. Favorable dynamic properties and precise position control make it possible to start and halt the barrier mechanism in a short period, allowing for efficient pedestrian access control. Offering high performance at an affordable price, EZmotion is the perfect choice for automatic gate machine applications.
Features & Benefits:
Integrated Magnetic Position Sensor, Position Accuracy 0.3°

Programmable I/Os to Receive Signals from the Optoelectronic Switch

Favorable Dynamic Performance and Precise Position Control to Enable High-Speed Movement and Halt the Baffles

Robust Driver Solution with Up to 100V Absolute Voltage Rating

AccuFilter and Notch Filter to Lower Noise And Vibration

Fast, Reliable Communication Using an RS-485 or CAN Interface

More Compact Design, Less Wiring, and Lower Price

Higher Integration and Availability for Ease of Assembly

Easy to Configure via the MotionLAB Virtual Bench GUI Software




Support Customization to Meet Individual Application Requirements