Integrated Servo Motors from EZmotion
Replace the stepper motor in your project with a more efficient, quieter, easy to manage servo without making any programming changes for as low as $145!
Why settle for a stepper motor when you can get an integrated BLDC servo motor from EZmotion for the same price? We've made servos easier to use than ever by incorporating the motor, encoder, driver, and advanced algorithm into one unit. Our integrated BLDC motors with a high-resolution angle sensor offer excellent positional accuracy, are dependable, quieter solutions that offer higher efficiency and accuracy across a wide speed range. Pair them with a user-friendly interface - MotionLab - to have the motor running within minutes.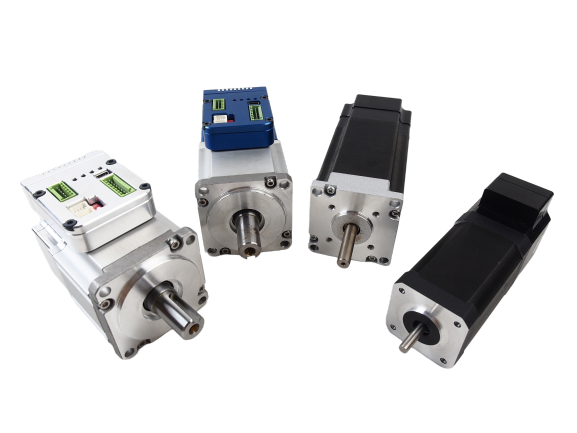 Accurate Positioning with 4096 steps per revolution and accuracy of 0.3°

Repeatability - High resolution 14-bit encoder enabling over 16K sampling points

High Torque - High operating torque with available peak output of 3x the rated torque

Continuous Duty - BLDC motor allows for efficient operation without overheating

Easy to Use and Manage - Our MotionLab GUI will help you set up the motor and have it running in minutes

Cost Effective - Complete solutions starting from as low as $145

IN STOCK - Ships in 5 business days
Features & Benefits:
NEMA17 & NEMA22 Frame size

18-70V DC Input Voltage

0.3Nm to 0.6Nm Nominal Torque

0.9Nm to 1.8Nm Nominal Torque

0.3° Position resolution

S-curve position profile

Position control, Speed control, Torque control

3 Digital inputs and 1 Digital output

Available with Step/Direction or RS-485 communication